You asked, we answered! Have a question that isn't listed? Contact us and we will get back to you as soon as possible.
What is the recommended age for Lulyboo Bassinets?
All of our bassinets are designed for babies 0-12 months. To help prevent falls, cease using the product when infant begins to push up on hands and knees or has reached 30 lbs. (40 kg), whichever comes first.
Can I wash my Lulyboo Bassinet in a washing machine?
Absolutely! All of our bassinets come with an easy-to-remove, machine-washable cover. Simply unzip, toss it in the washer, and air dry.
Are any flame retardants or other chemicals added to the Lulyboo Bassinets? 
No, all our bassinets are free of flame retardants
.
What is the age range for the Lulyboo Toddler Lounges?
Lulyboo designed the Toddler Lounges for children over 6 months of age.
How do Lulyboo products fold easily into a backpack?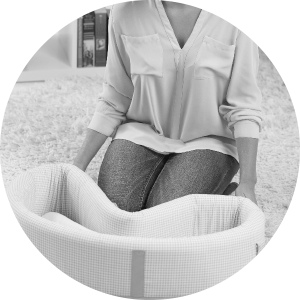 STEP 1
Pull clasps toward you
& snap closed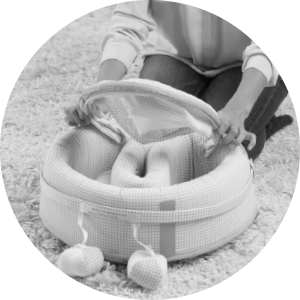 STEP 2
Secure activity
bar & canopy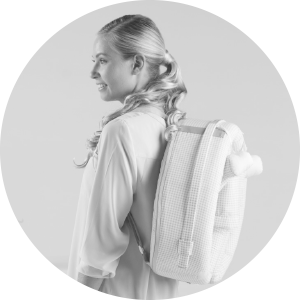 STEP 3
Converts to lightweight
backpack in seconds
Does the Lulyboo Carrier Cover protect babies from the sun?
Yes, the Lulyboo Carrier Cover provides UV protection from the sun's rays.
Is the Mod Carrycot waterproof?
Yes, all Lulyboo Bassinets, Toddler Lounges, and the Mod Carrycot all have waterproof bases.
Is there extra storage space in the Lulyboo Auto Seat Protector?
There definitely is. The Auto Seat Protector comes with 6 large organizer storage pockets and a smart- device window with audio cord outlet.
Where can I use the Lulyboo Infant-to-Toddler Head & Body Support?
The Lulyboo Infant-to-Toddler Head & Body Support fits easily into car seats, strollers, and more!
Does the Lulyboo Shopping Cart & Highchair Cover come with a place for an iPad or other tablet?
Absolutely, the Lulyboo Shopping Cart & Highchair Cover has a device window for a iPad, tablet or other smart device, along with an audio cord outlet for your convenience.
Is there a way that I can connect with other Lulyboo moms?
Absolutely, join the LulyCrew facebook page, where you can talk to other Lulyboo moms, leave comments and suggestions, as well as receive gifts and free merchandise!
---